Characteristics.
Educational and educational toy: a preschool educational toy for 4-7 year olds, children will find many ways to play in it. Counting bears in cups is a fun game for children. Bear Counters are also perfect as sensory toys for 4-7 year olds or as Montessori toys, these occupational therapy gifts will improve the development of hand-eye coordination and fine motor skills in preschoolers aged 3, 4, 5 and up to 6 years old for learning to add, counting, sorting and stacking. It stimulates the child's mind.
Develops cognitive skills: by sorting the different colored bears, your child will improve their fine motor skills and color recognition. Each card is matched to a story text or math problem, and these cards are the best learning material for children with autism, such as "quantitative cognition", "additional cognition" and "model building". . Memory skills are greatly enhanced when a child's imagination, critical thinking skills, logical thinking skills and toddler activity are used.
Shape and color recognition toys: Model building activity cards and pegs with scissors are designed for ages 3+, toddlers, preschoolers and elementary school kids, so one toy can last for many years. The toy storage box can hold all the cups or teddy bears and colored cubes. While the color counter is an appropriate toy for 3-year-old girls, it is not suitable for those who still put things in their mouths. Supervision is required if the child is 3 years or younger
Your little one's safety is our number one priority: this educational counting toy set has been tested by ASTM and is made of environmentally friendly materials. A sensory toy for 4-7 year olds and the opportunity to explore with their loved ones. We promote diverse and vibrant careers for children and support everyone who cares, nurtures and works. The children's toy is tested by an independent third party laboratory. It is certified non-toxic and free of Bisphenol A, lead and phthalates.
Specifications.
Material: ABS
Size: 28*18.5*12.5cm
Product includes: 3g 60pcs, 6g 30pcs, 9g 12pcs (6 colors), 1 clip, 3 dice, 15 cards, 1 storage bag, 1 storage box, 6 color rainbow cups (with cup holder)
Fun and educational stem game
Our Counting Bears are perfectly integrated with STEM and Montessori programs. It is both fun and educational for young children.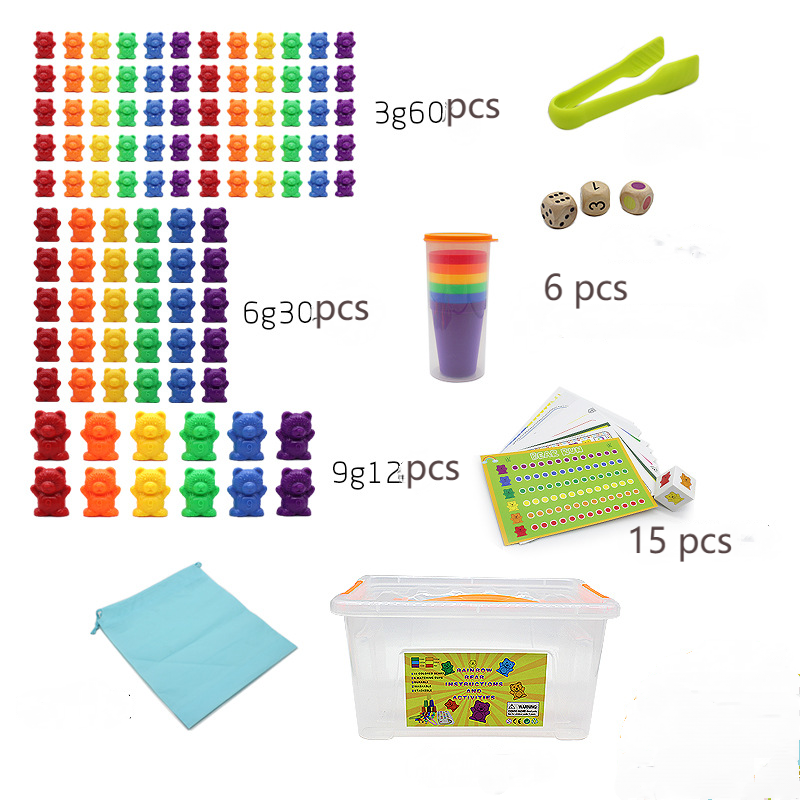 102 Bear Rainbow Cups Set: 3g 60pcs, 6g 30pcs, 9g 12pcs (6 colors), 1 clip, 3 dice, 15 cards, 1 storage bag, 1 storage box, 6 rainbow cups (with cup holder).

Educational toys are basic games where a child can easily acquire skills. For example, color recognition, math skills, sorting skills, and hand-eye coordination.

These adorable counting teddy bears will keep your child interested and inspire them to play smart and imaginatively. Hours of entertainment and educational fun for your child.
Fine motor skills The large tweezers help strengthen little hands and prepare them for future skills such as writing. Ideal for students with special needs (ADHD, autism) or as a tool for any preschool classroom.

The perfect gift for your child. This Rainbow Bear counting/sorting toy set is made of high-quality plastic, safe for children and easy to clean.