Ucz się przez zabawę, zabawki edukacyjne Montessori dla maluchów, pozwól dziecku uczyć się przez zabawę, rozwijaj umiejętności we wczesnych stadiach
Z badań ekspertów edukacyjnych z całego świata wynika, że ​​już od najmłodszych lat należy pozwalać dzieciom bawić się zabawkami i w trakcie zabawy stale uczyć się, co może poprawić różne umiejętności dzieci.
Aby uczynić dzieci mądrzejszymi w przyszłości, nie możemy rezygnować z żadnej okazji do szkolenia dzieci, aby dorosły!
Zachęcanie dzieci do rozwijania zdolności samodzielnego myślenia i umiejętności praktycznych od najmłodszych lat ma również na celu ustanowienie dobrej zdolności myślenia i umiejętności rozwiązywania problemów w wieku dorosłym.
12 ułożonych w stos geometrycznych plansz i 12 sorterów w różnych kolorach i kształtach oraz zabawka edukacyjna 3 w 1 z przyczepką ze sznurkiem to najlepszy wybór do pobudzenia potencjału mózgu!
Bezpieczeństwo przede wszystkim
Nasz samochodzik do sadu jest wykonany w 100% z naturalnego drewna i pokryty farbą na bazie wody, ręcznie polerowany, gładki i bez zadziorów. Solidny i odporny na upadki.
Zabawki do sortowania i owoców
Dzięki uroczemu i realistycznemu wzornictwu klocki z owocami są łatwe do chwytania i idealnie dopasowane do rączek malucha. Jasne kolory, różne kształty owoców i nazwy owoców z tyłu nie tylko przyciągną uwagę Twojego dziecka na długi czas, ale mogą również stymulować rozpoznawanie owoców przez Twoje dziecko.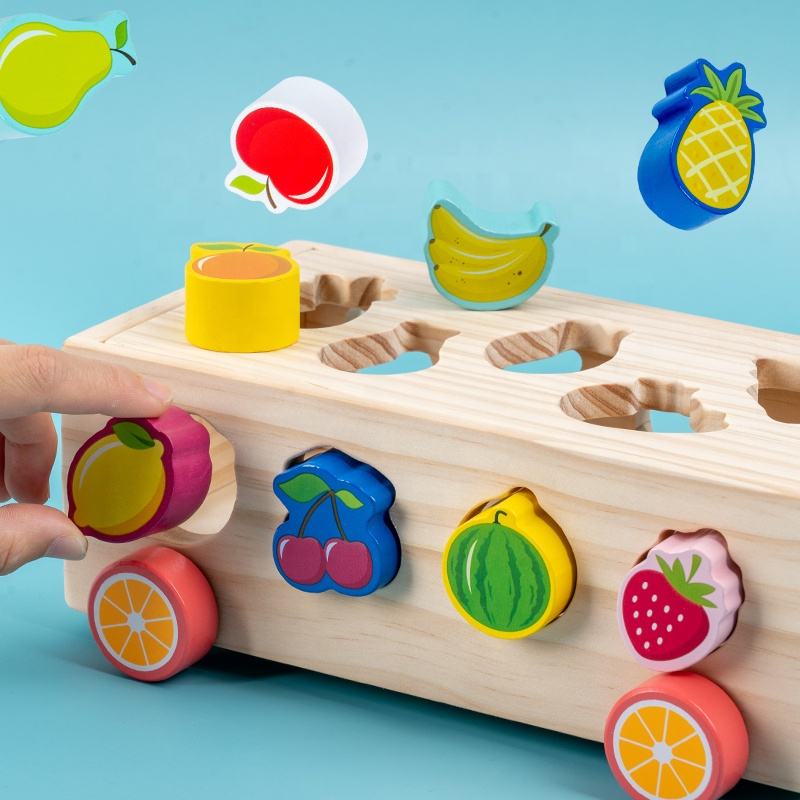 Gra interaktywna
To edukacyjna zabawka przedszkolna, która zachwyci Twojego małego chłopca lub dziewczynkę. Ta drewniana wczesna zabawka doskonale nadaje się do wczesnego rozpoczęcia rozwoju dziecka i pomaga nawiązać bliską interakcję i komunikację między rodzicami a dziećmi lub towarzyszami zabaw.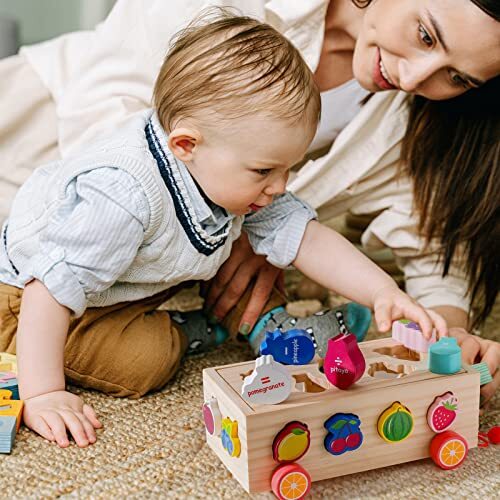 Najlepszy prezent dla dziecka
Zabawki są zabawne i mogą uzależnić Twoje dzieci na wiele godzin! Możesz grać w zbieranie owoców, gry w wózki itp. Różnorodne metody gry mogą sprawić, że dzieci będą szczęśliwsze. Te treści są sprytnie zaprojektowane i rozmieszczone na samochodziku. Po zabawie możesz przechowywać wszystkie klocki wraz z dzieckiem w drewnianym wózku.
Specyfikacja:
Materiał: sosna
Rozmiar: 23.5*12*8.8 cm
Waga: 616g
Rozmiar opakowania: 15.5*24.5*9.4 cm