Characteristics.
Safe to Play and Lots of Fun: Turn any indoor space into the ultimate floating soccer field and play for hours as if you were building a pitch at home. Your child can play real football with friends. In order to diversify the game in the hall, we added an inflatable football and a few push-ups to the package. Just inflate the ball with the pump and let the fun begin!
Engine update! Long-lasting: The suspended football is equipped with a powerful built-in motor to power the fan and greatly slow down aging. The floating spacer disc is larger and the quality is more reliable. It can be played like a real ball, not just a toy. You can turn any floor into a hockey and soccer surface, perfect on wood, linoleum, polished concrete and even short-pile carpet.
Colorful Lights: With colorful lights on the surface of the ball with buttons, children can play and kick the ball at night, turning the football match into a dazzling light show and giving children more fun and enabling nighttime games. Excellent. You can play like a real ball, not just a toy.
Padded bumpers to protect your furniture: As always, our football kits are made from high-quality, non-toxic materials. First, it assures that it will not harm the children. Secondly, it has an ultra-soft foam bumper that protects your furniture and walls from bumps, dents, scratches or wear and tear, and in return gives a good bouncing effect for hours of fun.
Perfect for Parties and Gifts: Whatever the occasion, the floating football match is the perfect gift. Whether it's a party, party, birthday, family reunion, sleepover, or any other fun event, your new floating soccer set is the perfect gift and party maker.
Kids Football Set Top indoor and outdoor sports games for boys aged 4-16
Become the next football champion
The Air Power Football is a great and exciting toy for your child to play both indoors and outdoors.
It helps to increase the child's curiosity and form good habits.
It can also improve your relationship with your child.
As a toy with an innovative design, it can also be given as a gift for girls or boys.
Spend quality time with your toddler playing indoors!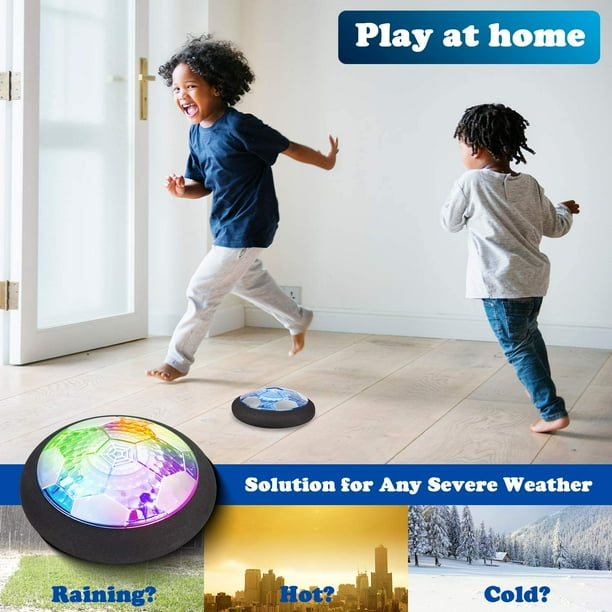 Interactive multiplayer games and family time
Let your kids build friendships through the game.
Perfect for rain or snow (or any other day), with 2 goals, whatever the weather, your child can build a football or hockey field at home and create a variety of games with parents or friends.
Play with your baby in your free time and improve the bond between you and your little one!
USB hover football game for boys and girls ages 3 and up, first multiplayer game
The strongest super-slick football can float on any smooth surface without tipping over.
A bright blast in the dark
Environmentally safe and economical, no batteries required
Safe and non-toxic ABS plastic.
Made of high-quality plastic, solid and durable. It won't hurt baby's feet. A great gift for all children.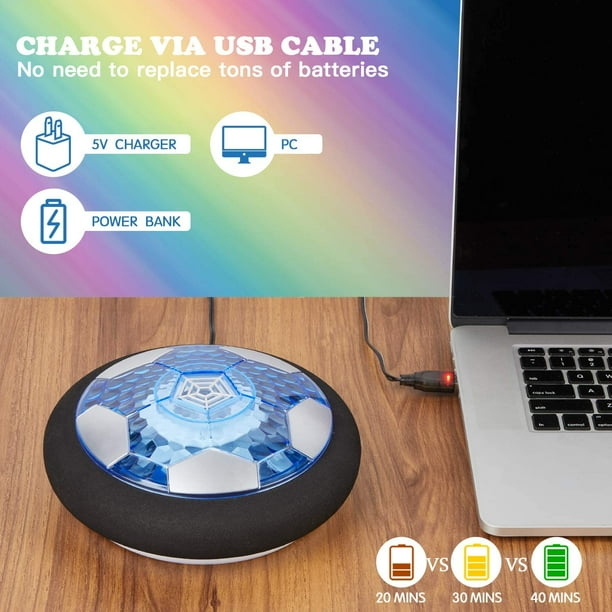 Updated version
This new hover football has been updated to be powered by lithium-ion batteries. So you don't have to worry about high battery costs.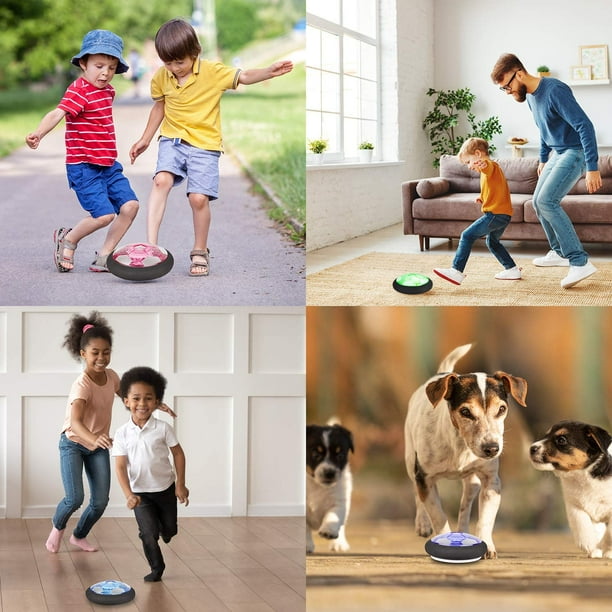 Variety of ways to play
With its simple setup and fast action moves, kids will love to play it over and over again, making it a great family game.
Includes various fun new ways to play with your cursor.
let's go! Create a new game like Bowling Hockey for even more fun.
Specifications.

Material: plastic
Size: 18*18*6.5CM
Packing size: 27.5*20.5*9.5CM
Weight: 630g
The product includes.
Suspended Football*1
Inflatable Gate*2
inflatable soccer ball*1
Inflatable pump*1
Inflatable cord*1