Characteristics.
Clutter-free kids' toys: Make long journeys bearable and keep your kids entertained without making a mess. Our magnetic drawing board is all you need to keep their hands, minds and eyes occupied for hours.
Play and Learn: Its unique design uses the concept of magnetism to stimulate various sensory receptors, disguising learning as fun for an enjoyable learning experience.
PORTABLE & TRAVEL-FRIENDLY: With just 17.5 x 21.5 x 1.2cm magnetic board and magnetic number pen, you can easily take these toys on long trips, flights or train journeys without adding to your bag.
No eraser required: just point the magnetic tip of the number pen over each hole to move the magnetic beads across the surface, allowing your child to use their creativity. To erase, just use the side of the pen to move it down.
A fun and unique gift: make exciting toddler games and magnetic toys for everyone. Click "Add to Cart" now to wrap it up as a gift the whole family can enjoy!
Specifications.
Material: ABS
Size: 17.5x21.5x1.2cm
Weight: 330g
Help your child have fun and develop.
Encourage your child to be creative! Almost as soon as a child can talk, he makes up stories and creates images out of nothing. Its magnetic pad allows your child to create without guidance, giving them complete freedom of imagination. With each doodle, your child will practice fine motor skills and original thinking while building cognitive tools that will last a lifetime.
Be amazed by the images that appear
Enjoy the magnetic pad that makes drawing magical. Follow fairies, puppies, houses or anything else in your imagination and watch the magnetic doodle pad bring your drawings to life. Your pencil brings the glow beads to the surface, making shapes appear without the beads popping out. Once you've finished your masterpiece, reset the board and keep playing. With a flick of the hand, the magnet will fall off and clear the canvas for your next work.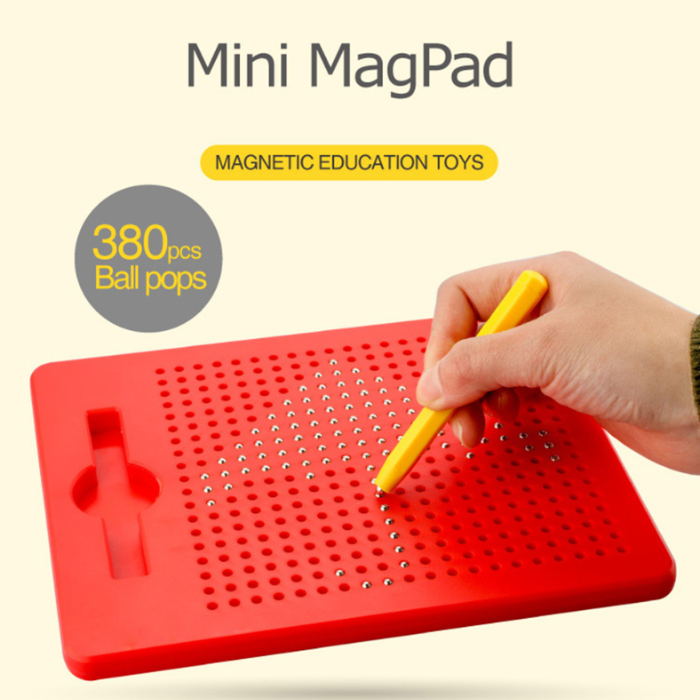 Let your child get lost in the new lesson plan
z Take care of your child's expansive mind! Entertaining and engaging: Your little one's mini drawing board is a toy that both kids and parents will love. Children trained in magnetic magic practice skills without realizing it, skills that will benefit them for the rest of their lives. Filling in the blank boards stimulates creativity and original thinking, and the stylus encourages the development of fine motor skills and coordination. When it's time to delve into the alphabet, make education exciting by tracing letters for kids on your magnetic activity.
Giving the gift of creativity
Share the joy of imagination on your next gift-giving occasion! Perfect for the toddler in your life, young family or preschooler, your 2 year old boy and girl's STEM toys are sure to impress with their endless creative potential and educational benefits. Made of durable plastic, the drawing board is a gift that will be kept for years.