Characteristics.
Writing Pad: Perfect for children's writing practice. Plus, it's portable. Helps promote fine motor control and hand-eye coordination as well as handwriting.
Double-sided Design: The wooden writing board is double-sided. Each word on the sheet has directional arrows to help the strokes keep the correct order and direction. The child can see where each line starts and which way it goes.
Helps Kids Write: Gently etched curved grooves provide a way to practice hand-eye coordination through real-world challenges. Helps control hand movements and muscle memory to write, recognize and form letters.
Early learning: made of high-quality wood and etched with inscriptions. Natural solid wood covered with ecological water varnish. Since all the edges are smooth and there are no rough surfaces, children can play with it completely non-toxic and safe without any risk.
Best gift idea: This writing tablet is great. It will add a splash of color to your home classroom or is a great gift for a preschooler.
Specifications.
Material: wood
Size : 29.5*23.5*1.1cm
Weight: 600g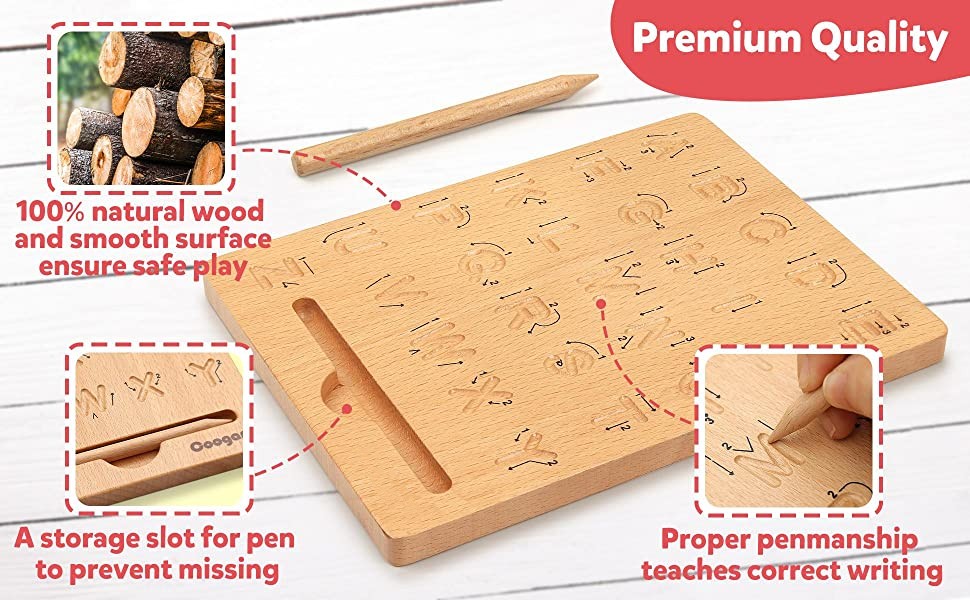 Toddlers love learning the alphabet/numbers with this practical alphabet board. The set includes a thick wooden stick for drawing.
Younger children can simply use a finger to start learning to trace letters/numbers, while older children who are ready to write can use the included wooden stylus to develop the hand and finger strength required for correct writing.

How to use
Trace the numbers/letters with a wooden pencil. Thanks to the directional arrows, children learn to correctly trace numbers/letters. This is a great way to strengthen recognition of letters and numbers. This writing tablet is double-sided with one side for uppercase letters and the other side for lowercase letters. It is very useful for children to continue practicing letters.
Fine motor skills
The seemingly simple idea of ​​learning numbers/letters and tracing can be turned into many other fun activities for parents and children. In addition to writing letters with the "pencil" that comes with it, children can also play with things like rice or dried beans.
Writing pad
This handwriting toy has a pen attached to tracing paper and will encourage children to grab, hold firmly and practice writing at home. This decal is fantastic! It will add a splash of color to your home classroom or make a thoughtful gift for your toddler or preschooler.