Characteristics:
Dinosaur Kicking Set: Discover 12 unique dinosaur species. Using professional digging tools, you will feel like a real biologist digging up unique toy dinosaurs.
Colorful Knowledge Cards: Includes 12 dinosaur cards, each telling the story of a different dinosaur. After digging up a dinosaur, match the correct card to your dinosaur and learn more.
Dinosaur Egg Digging Set: 1x Large Dinosaur Egg, 1x Wooden Chisel, 1x Wooden Brush, 1x Wooden Hammer, 12x Dinosaur Knowledge Cards.
Safe and fun toy: Dig directly into dinosaur eggs or soften them by dipping in water to make digging easier. This dinosaur egg digging kit is a high quality educational and interactive toy for boys and girls. It encourages the love of science and biology in a fun and exciting way.
The perfect gift: A colorful box, perfect for children's birthdays, Christmas and Easter. A fun and educational gift for all ages. The dinosaur egg toy encourages a love of science and biology in a fun and exciting way.
Specifications:
Product Name: Dinosaur Egg Digging Kit
Material: plaster
Dimensions.
Wooden hammer: 18cm
Chisel: 14cm
Soil resistance: 16 x 10 cm
Product Category: Giant Dinosaur Eggs
Crowd: children from 6 years
List of parts.
1x clay block (includes 14 small dinosaurs)
1x Wooden Hammer
1x Chisel
1x Brush
12x Cards with dinosaurs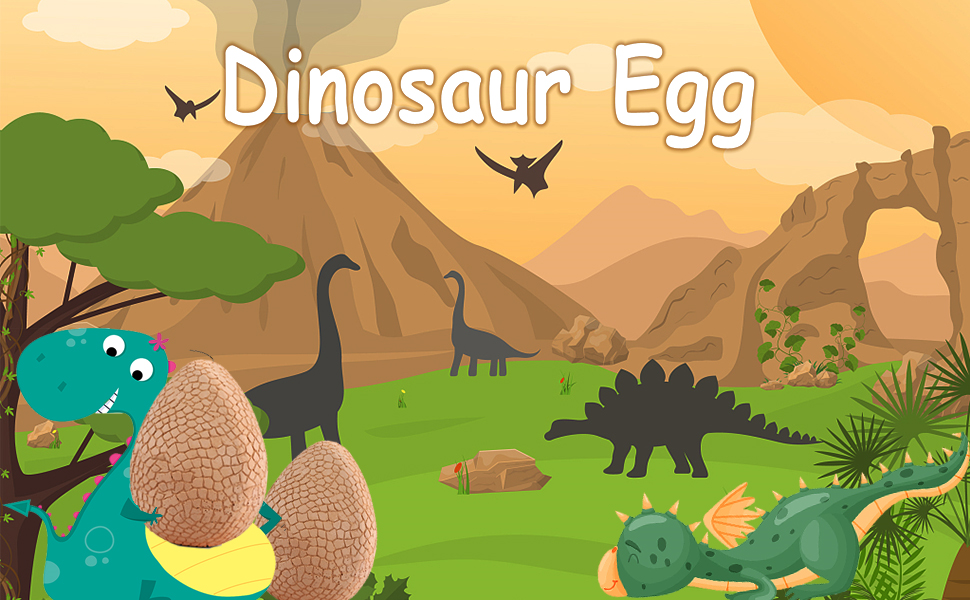 Take yourself to Jurassic World and discover amazing dinosaurs!
Warning.
Adult support and supervision is required.
Soaking is recommended as plaster dust from digging can irritate the eyes, nose and throat.
Do not put clay in your mouth or apply it to your body.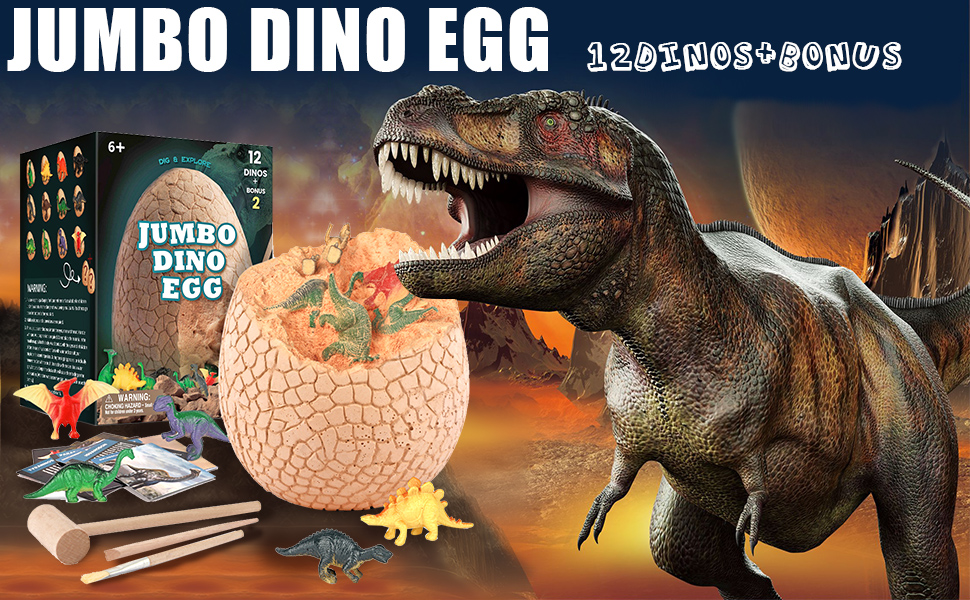 1x Large Dinosaur Egg One large dinosaur egg contains 12 different small dinosaurs + 2 random mini dinosaurs.
Natural clay, non-toxic and non-invasive to the skin; High quality ABS plastic, not easy to damage.
12x detailed dinosaur map
Included are 12 different matching dinosaur cards with English explanations explaining dinosaur knowledge, so kids can learn about the origins of ancient creatures and develop an interest in paleontology.
1 wooden chisel, 1 wooden brush and 1 wooden mallet.
Made of wood with a smooth, non-toxic surface that does not hurt the skin, let children experience professional archaeological activities and bring
Step 1: Just soak the dinosaur egg in water for about 15-30 seconds to soften the patch, or pour water on the dinosaur egg until the shell is soft.
Step 2: Tap the submerged dinosaur egg with a hammer to break the egg and take out the dinosaur.
Step 3: Sweep the remaining clay with a brush and place it in the bowl to clean the dinosaurs.
Step 4: Match the different appearances of each dinosaur and learn about the dinosaurs on the map

The perfect gift for a child for birthdays, Christmas, Easter and more