Characteristics.
Letter spelling game: you will get 52 activity cards with math exercises and spelling games, 10 letter squares, 5 number tiles with operation symbols, 1 letter tray. A special game for children to learn how to spell and relate to pictures.
Handy Educational Toy: The fun and educational matching letter cubes are perfect for little hands, and the 52 cards are durable and secure in the hand. While picking up and stacking the cubes is an exercise in fine motor skills, searching the letter cubes also helps children voice letters.
Emergency Literary Activity: The letter matching game will help your child develop as a beginning reader. Includes some 3 letter words which are great CVC words that preschoolers can pronounce on their own, a perfect start to familiarize them with pictures, sight words, spelling and letter sounds. Improves vocabulary and phonological learning areas.
A great confidence booster: gamified learning that kids don't notice The fixed frame has a flap that can be opened or closed to show or hide words, giving kids the freedom and confidence to explore spelling and reading on their own.
Complementary Learning Device: This addictive matching game is a great way to distract kids from electronics while they learn to say 3 and 4 letter words and do simple math. Perfect for moms at home, as classroom equipment or other teaching aid. Become a helper in the rehabilitation of children with inattention, autism, speech delays and more.
Specification.
Product Name: Letter Game Machine
Material: Plastic sheet of paper
Colour: Blue/Yellow
Age to play: 3 years and up
Weight: 324.6g
Color Box Size: 26.5X5X26.5CM
Configuration: Base*1, Instructions*1, Cards*32, Letter Squares*10, Number Pieces*20, Arithmetic Symbols*5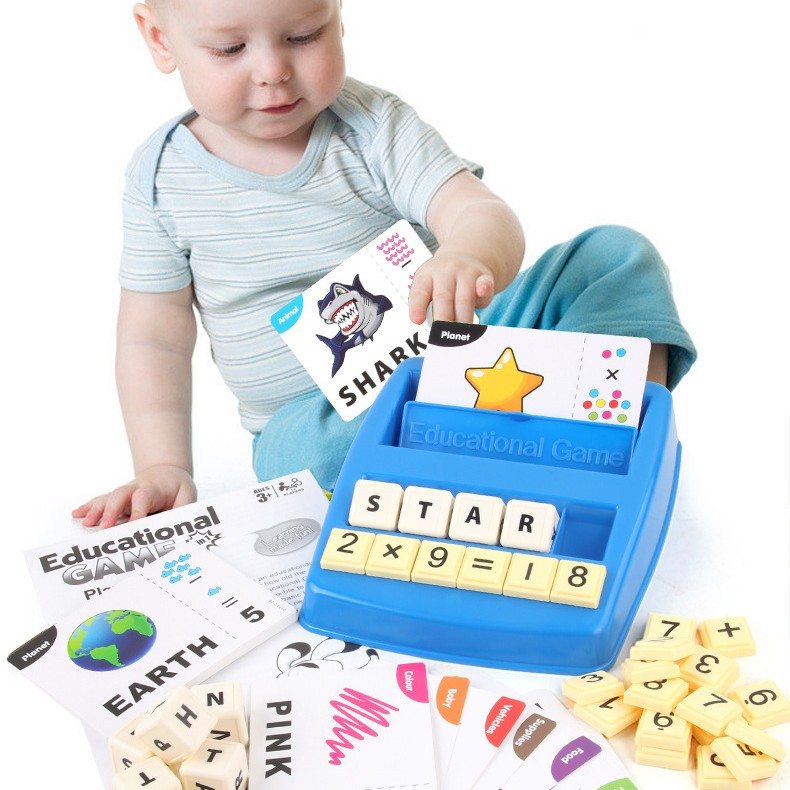 A great game for executive functions
It has different gameplay variants, which makes it interesting.
Plastic holder with a movable part on the card
You can cover or reveal the answers on the slots.
Cover the answers and let them play on their own.
The little ones can see everything
words and type the correct letters to match
word. With age and progress
Switch to a more demanding mode
Toys that simulate intellect
Letter matching games are great for teaching kids letters, spelling and reading.
Whether you have a child who hates sitting down to learn letters or has difficulty reading or spelling
words, this eye-catching educational toy will be a hit and keep both of you engaged 5 of each letter on the dice are needed
Away from electronics
Learning letters and number games is a great tool to develop and strengthen children
Letter recognition, basic math and spelling. Learning to build spelling together and practicing simple math counting is great fun. Not only are these games for parents and children, but they are also great for letter recognition and reading readiness. For a gadget-obsessed child, these are great for unplugging and getting them off the mat or phone and effectively limiting screen time. Manipulating these letter and number blocks is a fun way to get hands-on positive feedback and gives kids lots of ways to play without batteries.