Characteristics.
Crawling crab toy for kids: moves fast, swings side to side like a real crab, plays fun sounds and music, and lights up. It has sensors that change its direction when it approaches an obstacle.
Tummy time toy: Babies from 0 to 6 months love to watch the crab run around on its back! Perfect for babies to follow and exercise their neck muscles. A great toy to motivate kids who don't want to raise their head during prone time.
Helps baby crawl: Your 6-12 month old baby will be absolutely fascinated by the way the crab crawls. Your baby will try to crawl over and grab it. Of course, they'll never catch it because of the obstacle avoidance sensors.
Adorable Montessori toy: it will entertain not only your little one, but also your pet. Older kids love them too. The whole family will be enchanted by this cute Montessori crab toy. Quite fun and interactive! This keeps everyone happy and giggling.
Personalized Gift: The cute crawling crab is a unique gift that extends tummy time for 0-3 6-12 months, encourages crawling for 0-6 6 to 12 months, helps toddlers from 1 year 12 months and makes that the children grimace. Creeping crabs are the new wave of birthday and holiday gifts, such as Christmas and Easter stockings.
The color of this green crayfish is a bright color that children like and will attract their attention.
Charges with a cord, not with a battery. It comes ready to use right out of the box.
The crab's eyes light up and the crab plays music as it moves back and forth.
There are sensors on the outside of each claw that tell the crab to move in the opposite direction.
Perfect for toddlers who are just starting to crawl.
The crab will help your baby learn to crawl as he tries to catch it.
This crab will keep little crabs happy. Ready to move!
Kids love to watch the crabs go back and forth!
Eating crabs on the stomach will encourage them to look around and lift their heads up.
Help your baby build neck strength in prone time.
Perfect for encouraging young children to learn to walk.
Your little walker will follow the moving crab in the toddler stroller.
There were giggles, interactivity and fun everywhere.
Kids love to chase it and giggle!
Your whole family laughs at the animals bouncing off the crawling crabs.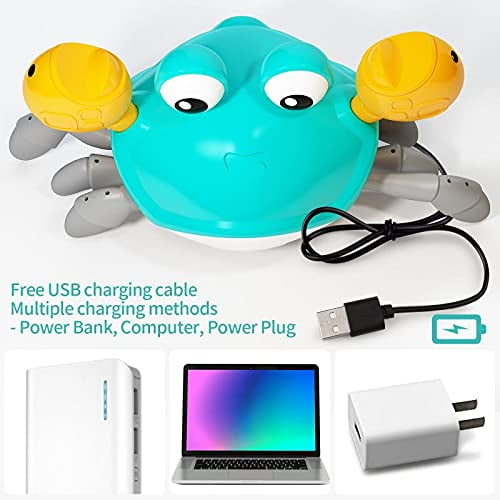 Long game time
Electronic musical crab toys powered by a 3.7V lithium battery, 2 hours of charging is enough for 20-30 minutes of non-stop operation. Package with USB charging cable. It is very convenient to charge with USB charger, computer, power bank. Make sure the toy is turned off during the charging process.
Perfect for crawling, walking and on-the-go babies!
Older kids love them too.
One of the new gifts for children for Christmas, Easter, etc. Brings joy to the whole family.
Specifications.
Material: plastic
Item Size: 14*23*11CM
Box Color Size: 21.8*13*10.5CM
Weight: 310g