Characteristics.
Montessori toys for 2, 3 and 4 year olds: high-quality wooden toys include 12 pieces of fruit, 8 carrots, 10 cute bugs and a pentagonal cart with different shapes and structures. In addition, the wooden toys are made with large particles, polished edges, and non-toxic water-based paints, satisfying both babies' need for learning through play and parents' desire for safety and quality.
Educational toy for kids: This cute wooden farm toy plays radish picking, fruit identification, shape matching, trolley, color identification, bunnies catching, storage and sorting and is a great toy for girls and kids aged 2 to 4* . A variety of ways to play will make your child happier.
Fine motor skills: Wooden Montessori toys are educational toys for children aged 3-5. The shape sorting game improves fine motor skills for 2-4 year olds, the bug bunnies train hand-eye coordination, and the colorful fruit patterned blocks improve color, shape and colorful fruit recognition.
Happy Carrot Harvest Time: Invite your child's friends to play carrot with you, it's really fun and your child will spend hours playing it, improving friendship between children and parent-child relationship. A great preschool educational toy for girls and boys aged 2, 3 and 4.
Creative and cute gifts: Montessori colorful patterned toys are perfect for 2, 3 and 4 year old babies, for birthdays, carnivals, Christmas and New Years. Come on, let's play carrots.
Specifications.
Material: wood
Size: 21.5*16.2*9cm
Weight: 0.9kg
Montessori educational wooden toys for children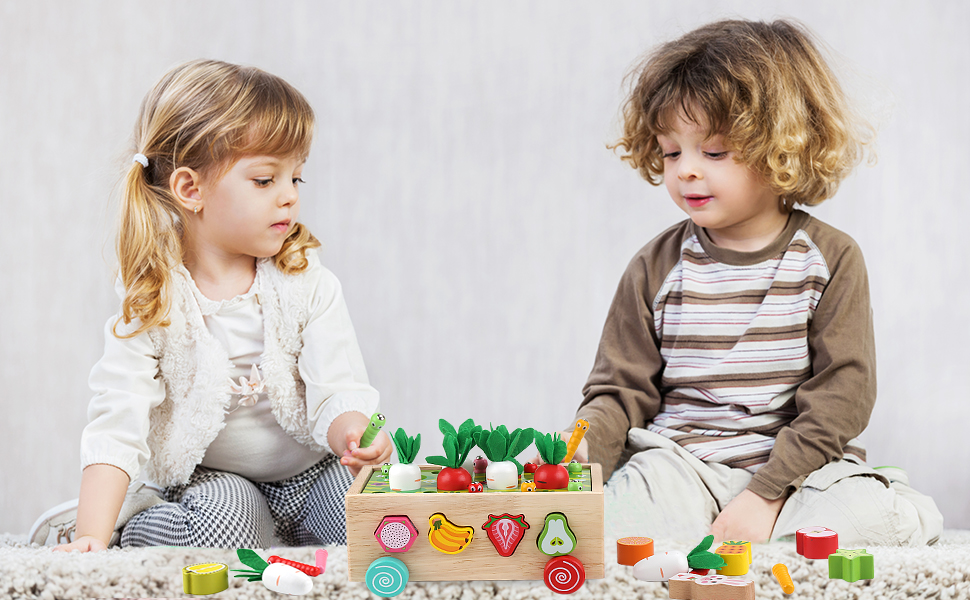 Fun for parents and kids
Montessori wooden toys are cute and a great way for girls and boys aged 2-4 to develop fine motor skills. Use the colorful bugs and fruits to teach your child about colors, counting, catching bugs and matching shapes. If the child does not want to play, you can store bugs, fruit, bunnies and radishes in the smart car until the child is playing again.
Wooden base, 1 fruit block, 12 carrots, 8 magnetic bunnies, 10 cute bugs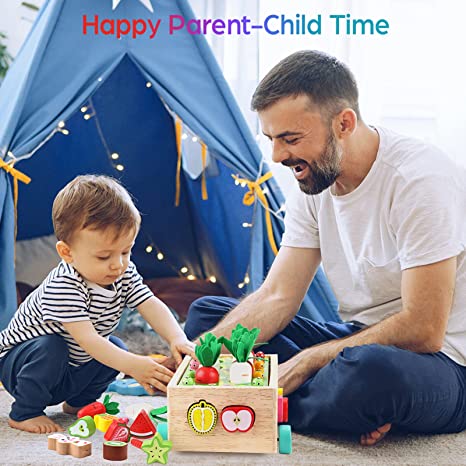 Large storage capacity
Suitable for boys or girls from 24 months, the educational toys can be used individually and easily stored in the box, offering convenient storage options and an easy and safe way to carry. The toy for kids is a great project to use at home or on the go.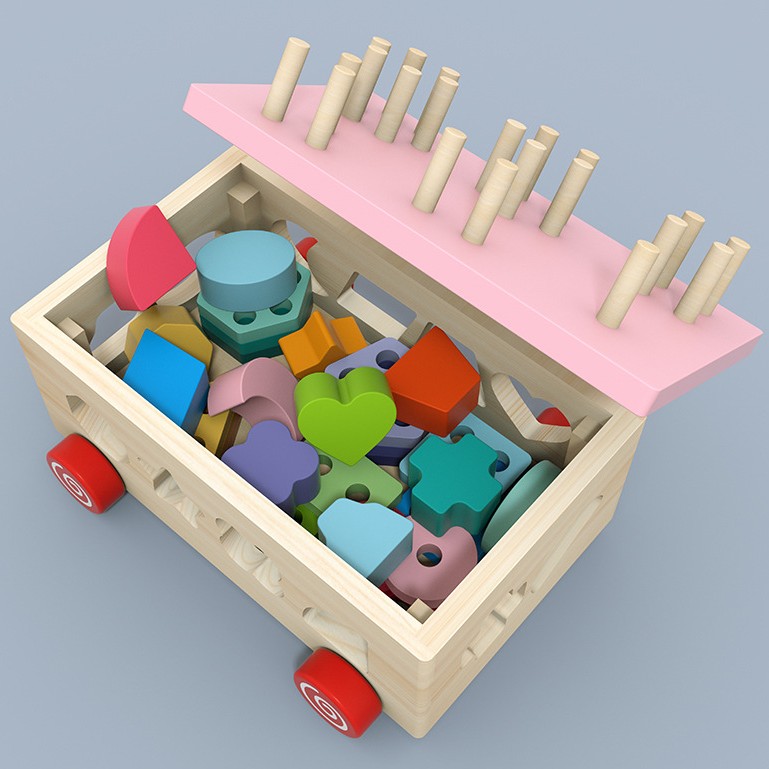 learning to walk
The smart Farm Orchard pushchair can be pushed and the pushchair will use inertia to move forward, which will attract your baby's attention and teach them to practice crawling and walking.
Recognition of shapes and colors
The wooden toy has 8 carrots and 1 base with 8 holes to fit the carrots. Your little one will need to determine the size of the carrots to put them back into the slots. It seems simple enough, but it can be a challenge for them.
Game "Carrot Harvest
Invite your child's parents or friends to pick carrots. Sturdy carrots are easy to grip and encourage fine motor skills. Beautifully packaged, our wooden Montessori toys are the perfect gift for children's days, holidays, birthdays, Thanksgiving, Halloween, Christmas, New Years, parties and other occasions.
Rabbit catching worms
Ten bugs and a bunny in four bright colors for kids to learn while having fun. colorful bugs on toys for children aged 3+ can be used to learn colors, counting and catching bugs.
Fruit identification
All details have been thought of with little boys in mind. Toys for children 3+ have a smooth polished finish for a smooth and delicate surface to better protect your child's little hands. These fruits will help your child learn to recognize and combine fruit shapes.